DMS By Get My Auto
Get My Auto's industry-leading, cloud-based ecosystem provides full access to comprehensive dealer management tools, all available in a single, centralized location. With DMS+, everything you need to manage your dealership is available at your fingertips. Get My Auto's cloud-based approach empowers you to focus on what matters: Leading your dealership to success.
Request a Demo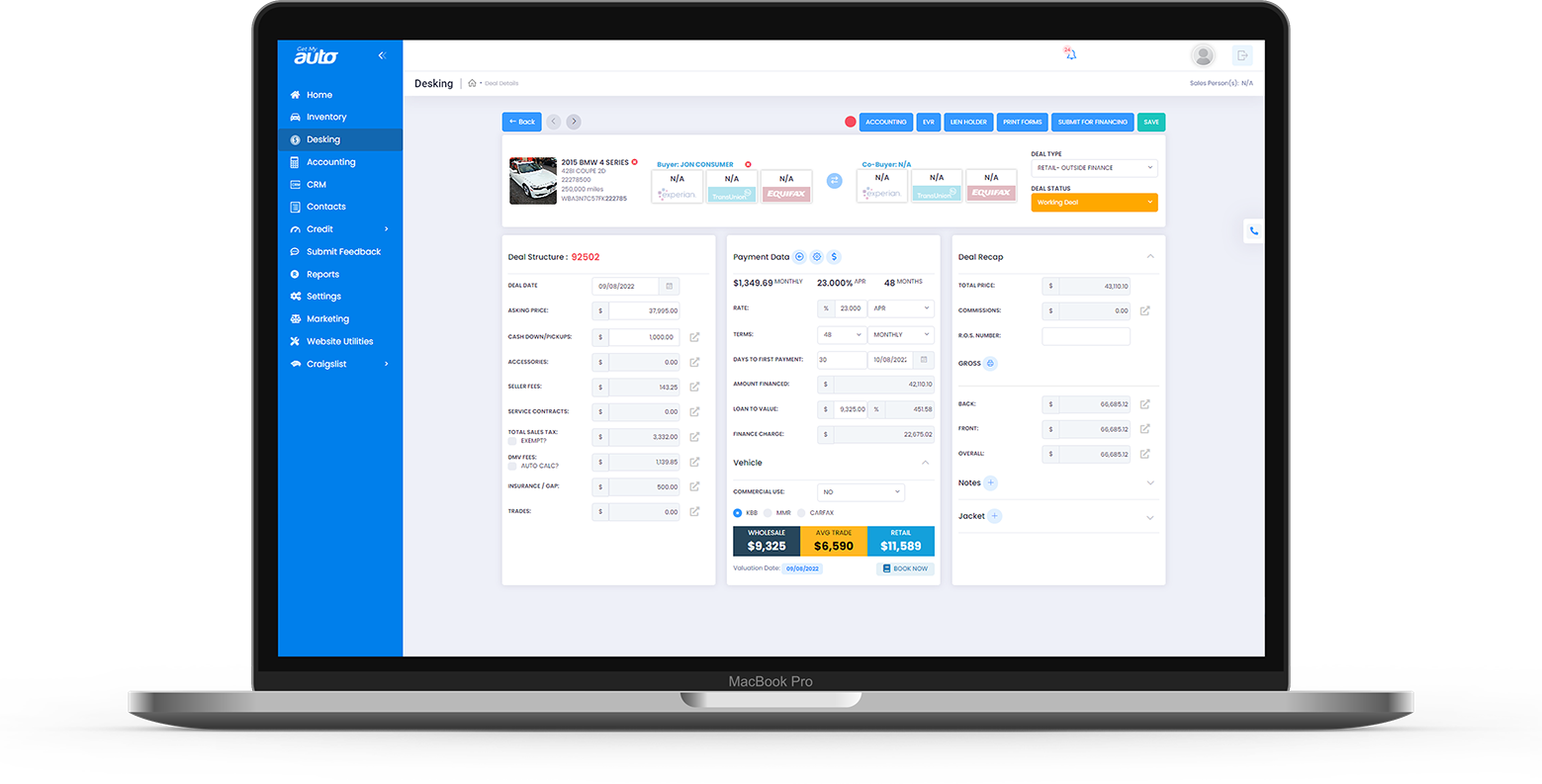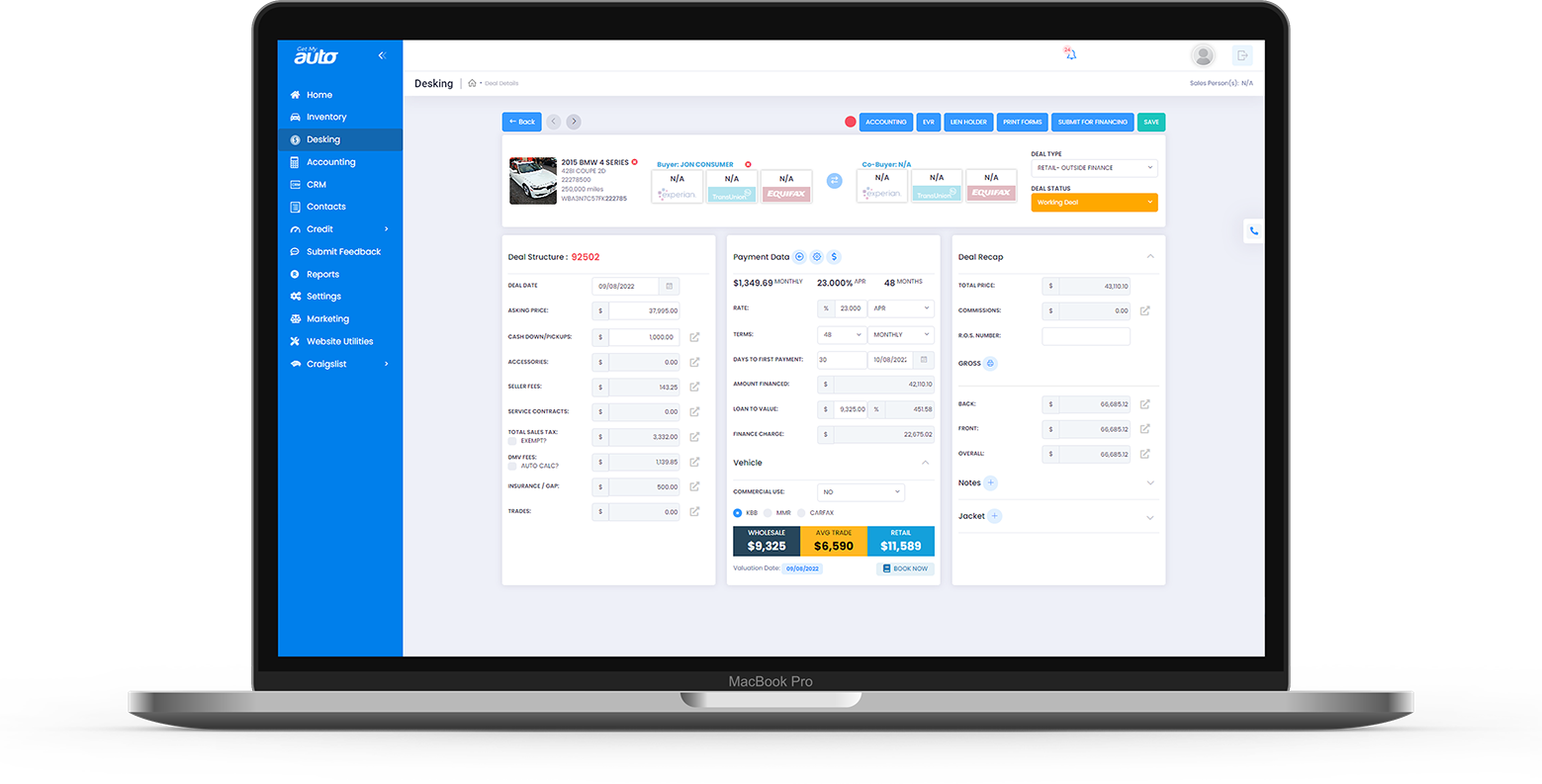 Desking
Everything you need to desk a deal all on one screen, no more switching back and forth between different sections.
Present customers with monthly and down payment options in seconds
Print quotes & present directly to customer
Get your ideal deal structure based on different criteria such as interest rate, payment amount, down payment, etc.
Manage multiple trade-Ins, service, insurance, and gap contracts
Support for deferred down payments
Dealer-defined profit calculation formulas to calculate your front, back, and gross profits
Retail Cash, Retail Financed, Wholesale, and BHPH deals
Contract & Forms
From DMS+, you can print all Reynolds & Reynolds and Bankers forms for every state, making it seamless and convenient to print forms and contracts for your dealership. No forms or special printers are required. Just boot up your normal laser printer and you'll be ready to go!
Reynolds & Reynolds® LAW® and Bankers System Retail Installment Contracts (RIC)
Unlimited access to extensive forms library including LAW 553, DMV, insurance, and other legal forms
Support for custom forms, just let your account manger know what you need
Custom form bundles for all your deals and lenders.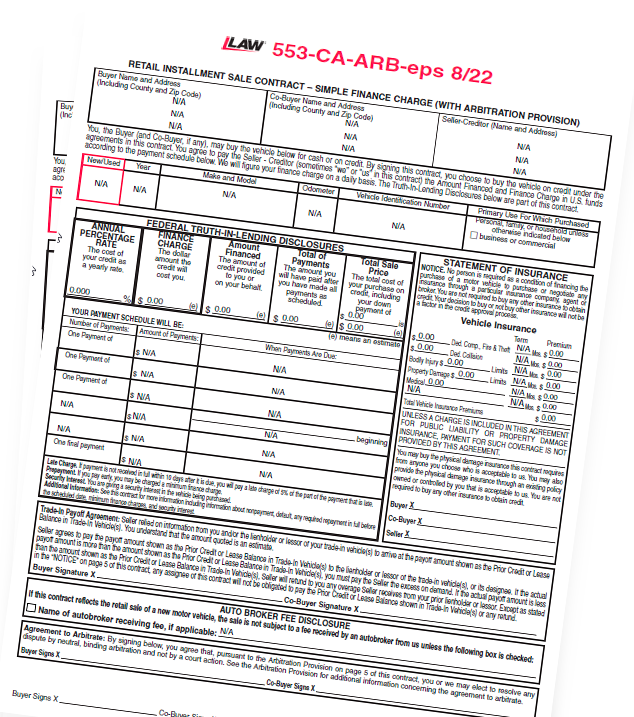 Credit Bureau & Compliance Services
Run credit checks with all the major credit bureaus, namely Experian, Equifax, and Transunion.
Access credit profiles, FICO scores including AUTO8, OFAC and other bureau services.
We also offer credit andv compliance solutions
Integrated with Website Credit application (no double entry)
Soft Pulls available with a click of a button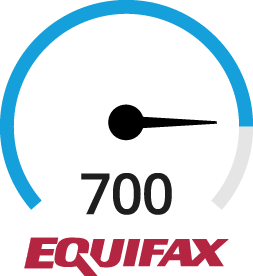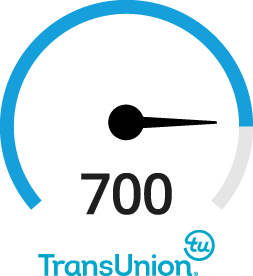 Lender Integrations
Access to almost every automotive lender with a click of a button.
Submit full deals to CUDL and/or RouteOne, DealerTrack – eliminate all double entry.
eFax full deal to any lender (deal structure, book, etc).
Titling and Temp Tags
Process electronic titles and registrations quickly.
Easily request, purchase & transfer temp tags
Print ROS and TLP directly from GMA without double entry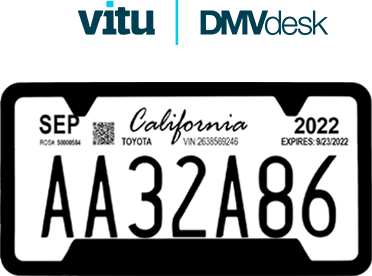 BHPH
Cater to your customer with Buy Here Pay Here!
We make it easier to provide customers with financing solutions regardless of their history!
Get My Auto Allows you to Structure Deals The way you want without a hassle!
Accounting+
Built in accounting and integration with Quickbooks, Keep track of your expenses and finances easily with Get My Auto!
Automatic transfer of accounting transactions to QuickBooks®
Flexible and highly customizable Chart of Accounts to match the requirements of every dealership and every accountant
Map your chart of accounts to existing QuickBooks® accounts
Detailed breakdown of every transaction and journal entry
Generate bills
Extensive Reports and Charts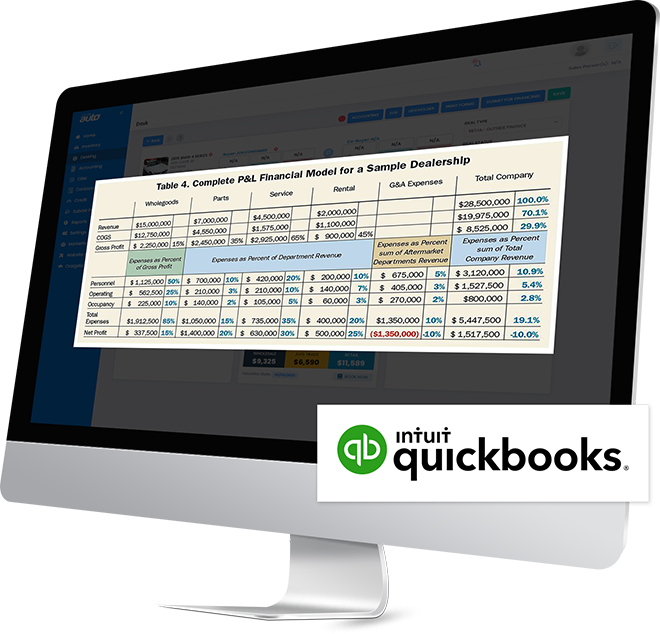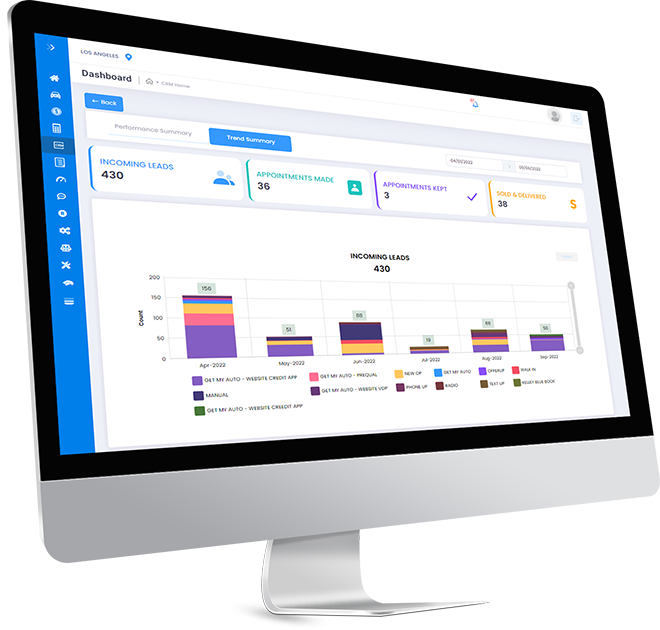 Reports & Analytics+
Turn to DMS+ for comprehensive reporting and actionable analytics, including custom reports that allow you to hone in on the metrics that matter most.
Want to make sure your dealership is running smoothly? Get My Auto Provides in-Depth Reporting and analytics for your dealership! Whether it's as simple as tracking the vehicles in your inventory, Tracking Sold/Available Vehicles, or Even Calculating your Gross Sales Information, Get My Auto Provides you with the Best and Easiest Way to do all of this from a Single place!